Quick Start with
Responsive Web Design Bootstrap 
Here is What We helped Custom Website Design:
Incredibly Enriched
Bootstrap Development

Stored Up in One Plug

Using technically developed and high quality systems for facilitating our clients with the services like website development, mobile development and app development is our utmost concern. Our whole system in concerned with providing our users perfect and encouraging solutions to get the development done right by prompt software.
Expert knowledge to Ace Bootstrap Development
20thFloor Techease,  supports its clients with building up all sorts of apps and web development operations. The system has been formulated to tackle extent functionality. Our Bootstrap developers are masters in turning complex operations into easy ones. Any customization or modification needed is fulfilled to its best.
Bootstrap At 20thFloor Techease,  works with the LESS stylesheets that are used in various parts of web and app development. HTML5, JavaScript and CSS based components provide best in force activities of your project. We develop Bootstrap compatible websites with every kind of browser and provisions receptive web design.
We understand all of your requirements and try to render services with excellence.
Work credibility with quick responses

Quality promise with confidence

Single framework for all smart devices

Highly qualified staff available

Effective solutions with augmented features
Bootstrap Web Designing & Development
at
20thFloor
Techease 
Customizable Bootstrap Services

WrapBootstrap Templates and Themes Services

Configuring Components Services with a Bootstrap

Twitter Bootstrap Services

Bootstrap Design Services
Using Bootstrap with WordPress

Using Bootstrap with Django

Using Bootstrap with Angularjs

Using Bootstrap for Responsive Design
Appoint 20thFloor Bootstrap Brains
Starts From
$5.99/hr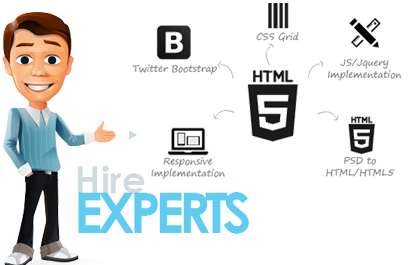 We offer absolutely professional experts that assist in consultation, customization, designing, maintenance and development of your website. So, hire us Now!
Good to Go With at 20thFloor Techease 
Flawless website customization for web and apps

Impressive speed development for enhancing efficiency

Reassure consistency for compatibility with internet tools

Responsive over mobile devices and desktops

Constant updates and accurate solutions for issues

Improvement of working from various browsers
Easy interaction with the great resources

I am a start with little experience. Within a matter of questions asked and instructions given by the support system I was able to maintain and develop my own website.

Thanks guys. Working with you is the best.
Best website re-designing Company

Our new website is getting more traffic. 20thFloor Techease worked on it and gave it a new and exciting look. They worked hard and carefully. I like my new theme.

Thanks 20thFloor!!